All future updates and registrations for upcoming worship services can be found HERE.
UPDATE | MAY 26, 2020 | 4:00PM
Church Family,
We had a great weekend! As always, we hosted our online service and radio broadcast, but we also had two outdoor services. Observing social distance and using safety protocols, our staff saw over 200 at the Main Campus and almost 300 at Raymar Fields. It was a huge blessing to see faces and families we haven't been able to see in 3 months, and we were so grateful for those who were able and felt comfortable enough to join us in worship!
SUNDAY, MAY 31: ONLINE & OUTDOOR
Online Service at 9:30am
Outdoor Services at 9:30am at the Main Campus*
Outdoor Service at 10:30am at Raymar Fields.
*Two changes for the Outdoor Services at the Main Campus - 1) Due to expected rain this week, we are moving the Outdoor Service to the back parking lot instead of The Pit and 2) We will be able to provide access to restrooms.
Please register to attend one of the Outdoor Services here.
RE-ENTRY PLANS FOR JUNE 7
We are preparing for In-Person Worship starting June 7! Our new schedule is as follows:
9:00AM:
Blended Service in the Worship Center
Modern Service in The Venue
11:00AM:
Blended Service in the Worship Center
Modern Service in The Venue
We are planning for a very safe and worry-free environment and worship experience, but it will require that we adapt to our situation and do things a little differently. We are asking that you come in specific doors, socially distance yourself, and enter and exit differently than what you may be used to. To learn more about what to do, what you can expect, and what will be available, please read our Re-Entry FAQ here. Download a campus map here.
Please register your attendance for worship on June 7 here.
We need ushers, greeters, and volunteers to help us clean in between services. If you'd like to volunteer, please go here.
Please make the best decision for you, your family, and your situation. We want you to come when you're ready and able, but know as you enter the building we will do what we can to offer a clean and safe environment.
We will still be offering online worship every Sunday if staying at home is the best option for you and your loved ones. You can join us online at both 9:00am and 11:00am on Facebook, YouTube, gsfbc.org/live, or the GSFBC App.
Thank you for your continued commitment in giving to the Lord and His church. We are able to help so many and maintain our ministry plans through your faithfulness. God is glorified as we continue to put Him first.
Please let me know if you have any questions as we take steps towards re-entry. Thank you for trusting our team to care for you and your family.
In Christ,
Pastor Jason
Executive Pastor of Ministries
UPDATE | MAY 19, 2020 | 4:00PM
Church Family,
Both Old Testament prophets Isaiah and Jeremiah spoke of God's desire to bring forth "a new thing" and "new mercies" to His people as He "made a way in the wilderness and rivers in the desert" (Isaiah 43:9; Lam. 3:22). I'm grateful we're able to see his mercies peek out on the other side of this pandemic. As we begin to lift restrictions and carefully walk out of isolation I'm looking forward to our future opportunities of coming together. In fact, our staff team has begun returning to the office as we're busy preparing for Outdoor Services and our Re-Entry Plan.
ONLINE AND OUTDOOR: MAY 24 & 31
This Sunday we will have two outdoor services: 9:30am at the Main Campus and 10:30am at Raymar Fields (1701 Raymar Rd.). We will still provide our Online Service at 9:30am. Please register to attend one of the Outdoor Services HERE or call the church office at 501-455-3474. Please remember: bring your own chair, observe social distancing, and no restrooms will be available at the Main Campus. Restrooms will be available at Raymar Fields. Both locations will have identical services and it promises to be a great time to be together. Please, if you are at-risk for COVID-19, stay home and join us online!
WEATHER PLAN: If it rains or the forecast prevents us from hosting services outside, we will communicate any cancellations through our social media outlets and our website.
RE-ENTRY PLAN
Our Re-Entry Task Force has thoroughly developed a GSFBC Re-Entry Plan. This plan follows the guidance of state and local health officials and is in line with what other churches our size are doing in our region. Realizing guidelines and restrictions may change, we will communicate the entire Re-Entry Plan as we get closer to June. However, we are certain we will go to this modified worship schedule when we return:
9:00AM:
Blended Service in the Worship Center
Modern Service in The Venue
11:00AM:
Blended Service in the Worship Center
Modern Service in The Venue
This schedule provides four worship services to keep our crowd size smaller in each worship area and allows time for our Re-Entry Team to thoroughly clean and sanitize our public use areas. You will need to register to attend your desired service and registration will open up in the next several days.
UPCOMING SCHEDULE
May 24 - Online and Outdoor Services*
May 31 - Online and Outdoor Services
June 7 - Online and In-Person Services
*If Outdoor Service are rained out May 24
May 24 - Online Only
May 31 - Online and Outdoor Services
June 7 - Online and Outdoor Services
June 14 - Online and In-Person Services
We hope as we begin having in-person gatherings again and as our kids and students begin having summer events, we will understand when and how to introduce small groups and Sunday School for all ages back on campus.
I appreciate your flexibility through this entire season and consider it a great joy to serve such a wonderful church family! Thank you for your readiness to respond and your willingness to do what is necessary to love our neighbors and love each other as we manage this season together.
By Grace,
Pastor Jason
Executive Pastor of Ministries
UPDATE | MAY 12, 2020 | 3:00PM
Church Family,
The prophet Nahum shares the goodness of God in the midst of oppression when he shares Nahum 1:7, "The Lord is good, a stronghold in the day of trouble; he knows those who take refuge in him." Although COVID-19 is not a military oppression from the Assyrians, it certainly is a difficult time; but through it all, the Lord is so good.
THE GOODNESS OF MEETING AGAIN: ONLINE & OUTDOOR
Part of God's goodness is allowing us the opportunity to start moving toward meeting in person! Although we are anxious to see everyone back in the building, we've made the conscious decision to move toward re-entry slower than most churches to allow for more time to understand the decrease rate of COVID-19 and to protect our church family. Part of our movement into gathering in the building again is providing two weeks of "Online & Outdoor."
On May 24 and May 31, we will host our normal Online Service and provide an Outdoor Service at both the main campus and at Raymar Fields (weather permitting). Services at both locations will be identical, family-friendly, and less than an hour. Please bring a blanket or a chair and wear any protective equipment you feel is necessary for you, but we are not requiring masks or gloves to attend.
Outdoor Service at the Main Campus at 9:30AM - This service will be held on the grassy area known as The Pit, just off the north parking lot. Unfortunately, we will not be able to open any bathrooms.
Outdoor Service at Raymar Fields at 10:30AM - This service will take place on the upper fields just off the parking lot. Bathrooms will be available at this location.
We are asking that you register to attend the outdoor services. You may register HERE or by calling the church office at 501-455-3474. Registering is very important as we want to ensure we have enough social distancing space for all attenders. We look forward to seeing you online or outdoors May 24 and 31.
THE GOODNESS OF GOD'S PROVISION:
PRESCHOOL MINISTRY ASSOCIATE
Our Preschool Ministry Associate position became vacant just as COVID-19 hit in early March. Uncertain how we might fill this role during the pandemic, we started looking for an interim while also taking applications and sending out questionnaires. One of those applicants was our very own Mandy Horton, who has served us very well as our Preschool Ministry Assistant for the last 10 years. It became very obvious God was at work in her and her heart for ministry. Therefore, after a thorough application process and upon the recommendations received from our Children's Pastor Brad Franklin, who supervises Preschool Ministry; our Personnel Team; and our Directional Team, we are excited to announce Mandy Horton as our new Preschool Ministry Associate, effective immediately. Mandy and her husband Robby have been members of Geyer Springs since 2005. They have two sons, Brodie and Alex, and live in Benton. Please help us welcome Mandy to this new role as she will provide direct oversight to the Preschool Ministry (birth - kindergarten). You can reach Mandy at [email protected].
We continue to look forward to seeing you online this Sunday, May 17 through Facebook, YouTube, our website, and our app. Next week, through our COVID-19 Update, we will share more information from our Re-Entry Task Force as we prepare to gather in person for worship starting June 7. If you have any questions, please don't hesitate to reach out to me at your convenience.
Grateful for His Church!
Pastor Jason
Executive Pastor of Ministries
UPDATE | MAY 5, 2020
Church Family,
Please watch a video update from Pastor Dave HERE.
It is a great day! We are finally able to make progress in gathering in person once again! We have been praying, planning, and preparing for our state officials to provide instructions to places of worship in relationship to COVID-19. Our team has now developed the Geyer Springs Re-Entry Plan that will serve as a guide as we navigate the next several weeks together: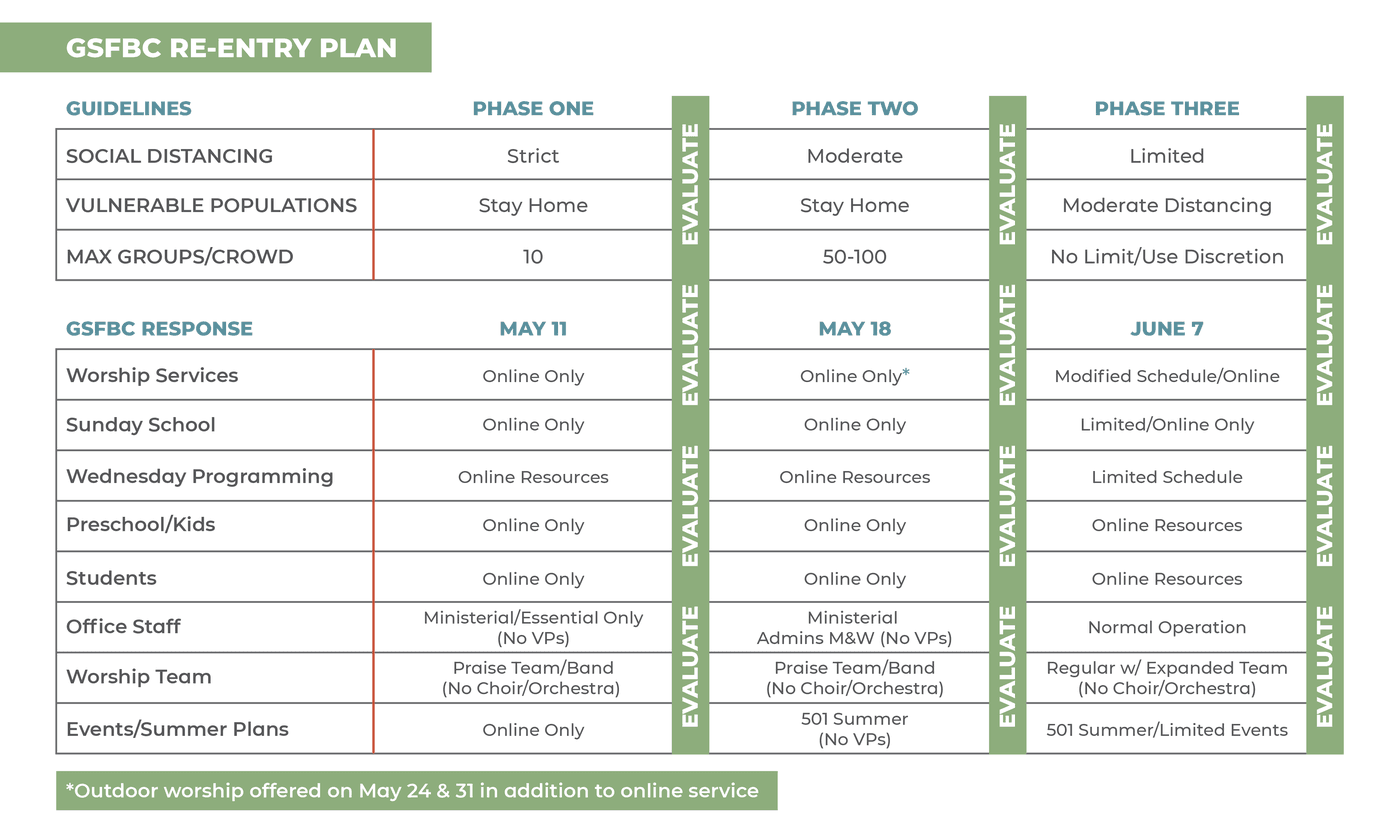 Please note, before moving into a new phase, we plan to seek wisdom from state and health officials and evaluate the best course of action for church family. Right now, are planning for in-person worship gatherings starting June 7. What does June 7 look like?
Due to the need for social distancing, we will attempt to keep our attendance to 30% capacity. This will require we offer multiple service times for both our Blended and Modern services. This could mean 5-6 services.
You will be asked to register online or by phone for the service time and style you wish to attend.
We've recruited a Re-Entry Team and Task Force that will develop several precautions and protocols to minimize contact and maintain and clean environments before and after each service.
More information on how to register for your service and prepare your family to return on June 7 will be coming in the weeks ahead.
We will continue to host our online service through May 31 but, in addition, we are also planning outdoor services on May 24 and May 31 at the main campus and at the sports fields on Raymar Road. Each service will have live worship and live preaching and we will certainly gather under social distance guidelines. We need to keep our crowd to manageable size and therefore, are asking those who plan to attend to register so that we can plan accordingly. Registration for the outdoor worship service will open up next Tuesday, May 12.
Pastor Jason
Executive Pastor of Ministries
UPDATE | APRIL 28, 2020 | 3:00PM
Church Family,
As spring has arrived, it reminds me of new life. The trees are green again, and flowers are in bloom. Three eggs hatched in a bird's nest outside my son's bedroom window. What a great reminder of the life-saving, life-giving power of the Gospel. In the midst of despair and destruction, our God saves and breathes new life into us: "Therefore, if anyone is in Christ, he is a new creation. The old has passed away; behold, the new has come!" (2 Corinthians 5:17). We praise Him for the newness of life!
Speaking of new things, we are starting to prepare for the possibility of re-entry post COVID-19. Our staff team will be working hard to prepare for this reality, but we really need your help. We're asking our church family to fill out a short survey helping us to understand your comfortability as our culture becomes public again. It should take you less than 5 minutes and is only 14 multiple choice questions. The survey will be live through Sunday, May 3, and you can access it here: Take the Re-Entry Survey.
This week our preschool, children, and student teams rolled out their new summer plans - 501 Summer: Live. Love. Reach. Local. We're excited to engage and equip our next generation for outreach and discipleship in a local context this summer. From Camp Geyer to Collide Summer Takeover, it promises to be a great summer. Check out the Summer 2020 Schedule here.
May 1-7 we're joining other Arkansas Baptist churches in PRAY714. Led by Pastor Dave via videos posted on social media, we will be challenged to pray every morning and evening at 7:14 as we follow the outline of 2 Chronicles 7:14 to be humble and pray for our "land." Join our staff as we follow our pastor in praying for God to heal our land. More information can be found here.
Remember, here are a few ways to connect with us and to our mission:
Our Resource Page for families
Our staff short devotionals that parallel our New Testament Reading Plan on our Facebook page every weekday morning at 7:00am.
We miss you dearly and look forward to serving alongside you once again; but until then, we'll gladly partner six feet away!
Pastor Jason
Executive Pastor of Ministries
---
UPDATE | APRIL 21, 2020 | 3:00PM
Church Family,
We trust in One greater than our circumstances. In His strength, providence, and mercy, we have full assurance that He is in control and has overcome anything this world can give us. John 16:33 reminds us, "…in me you may have peace. In the world you will have tribulation. But take heart; I have overcome the world." What a great promise in times of great anxiety!
PREPARING TO GATHER AGAIN
As government and health officials are beginning to see light at the end of the tunnel, we'll be putting a plan in place that will follow the Phase 1, Phase 2, and Phase 3 guidelines. Our desire is to have in-person gatherings when the time is right. We will be communicating our plans as we understand health protocols for CV19 and the state of Arkansas. Pray for our team as we prayerfully consider how and when we can start gathering again.
SUMMER 2020 IS COMING
Look for our Big Summer Reveal next Monday, April 27 as we unveil our new summer plan for preschoolers, children, students, and their families. As CV-19 continues to linger and with many of our large events being in early June, we know summer at Geyer Springs will have to be different. Our team has worked hard looking at new and creative ways to keep the best parts of our summer programming while keeping the restraints of CV-19 in mind. Be ready next Monday to hear all that God has in store for this summer.
PARK AND PRAY FOR SCHOOLS
Next Tuesday, April 28 at noon, park and pray at your local school. Administrators, teachers, and school staff are doing their best to manage virtual learning. Our children and students have been forced into new learning environments at home. Please pray for our educators and our families as we adjust to this new season of education.
WATCH AND LISTEN
Don't forget you can watch our online worship service on Facebook, YouTube, and our website Sundays at 9:30am. If you don't have access to our online services, you can hear the morning's message on 93.3 The Fish on Sundays at 11:00am. We hope you'll tune in this week.
Blessed to serve a great church family!
Pastor Jason
Executive Pastor of Ministries
---
UPDATE | APRIL 14, 2020 | 3:00PM
Church Family,
These updates seem to come more and more frequently as we continue to live with CV-19 as part of our new normal. I find myself praying for patience to endure this new normal because, like many of you, I'm ready to get back to my old normal! But in the spirit of perseverance, I am reminded of a favorite Scripture - Provers 3:5-6, "Trust in the Lord with all your heart, lean not on your own understanding, but in all your ways submit to him, and he will make your paths straight." I hope you are trusting the Lord in this season. A few updates for you this week:
AN EASTER LIKE NO OTHER
Thank you for joining us for our first ever Easter Online! Easter Weekend started with The Kingdom Premier on Friday, two Easter Online Services on Sunday morning, and Songs of our Faith on Sunday night. The entire weekend was packed with great opportunities for personal reflection and to invite others to hear the Gospel. Thank you for being with us.
SUMMER 2020
State officials have decided to keep schools closed throughout the remainder of the school year. This action has caused us to consider how this impacts our upcoming summer programming. As CV-19 continues to linger and with many of our large events being in early June, summer at Geyer Springs is going to be different. Our team is working hard looking at new and creative ways to keep the best parts of our summer programming while keeping the restraints of CV-19 in mind. Summer 2020 may be different, but we are really looking forward to it. Plan for our Big Summer Reveal on April 27.
ON THE RADIO
In an effort to reach our community and serve those who don't have access to our livestream, we are broadcasting our Sunday morning sermon on 93.3 The Fish on Sundays at 11:00am. Listeners will hear that morning's message as a short radio show hosted by Pastor Dave and Pastor Jason. Help us spread the word to those who don't have access to our online features.
PARK & PRAY
Every Tuesday at noon, we are calling our people to prayer. We encourage you either to pray from your home or come "park and pray" on location as we pray for healthcare workers, hospital administration, and the sick. Next Tuesday, April 21 join us at UAMS at noon.
YOUR GENEROSITY
Thank you for your continued faithfulness in giving! As you give, we're able to serve our community, continue to spread the Gospel message, and support our team. God has blessed our giving these recent weeks! We miss you, and look forward to virtually connecting with you this week.
Blessed,
Pastor Jason
Executive Pastor of Ministries
UPDATE | APRIL 7, 2020 | 1:00PM
Church Family,
THIS SUNDAY IS EASTER
This Easter will be like no other! In our lifetime, we've never been asked not to be at the church to celebrate Easter. But, if Easter is just a corporate celebration, we've missed the point. Sure, the resurrection of our Lord gives us an incredible reason to celebrate, but the power of the empty tomb provides for every believer to "be steadfast, immovable, always abounding in the work of the Lord, knowing that in the Lord your labor is not in vain." (1 Corinthians 15:58). The resurrection gives us the ability to abound in Him – what a great encouragement to us as we live in this uncertain season!
We will have Easter Online this Sunday at 9:30am or 11:00am on our media outlets: Facebook, YouTube, our website, and on the GSFBC app. Pastor Dave will bring a live message in both services as we look to share the great news of the Resurrection. Invite others to participate with us online as it promises to be a great Sunday of encouragement!
THE KINGDOM PREMIERE
This Friday at 6:00pm we will premiere a recording of last year's The Kingdom presentation on Facebook, YouTube, our website, and on the GSFBC app. Our media team has put together a spectacular video recording that captures the essence of a live performance. Following the premiere, Pastor Dave will lead us in celebrating the Lord's Supper together as we prepare our hearts for Easter. Plan to watch and, even better, invite others to see this presentation of the life, death, and resurrection of Christ.
ON MISSION
Our missions office is busy equipping and engaging the missional needs that are coming our way as a result of COVID19. From collecting and distributing resources and food for Feed the Need to providing meals to healthcare workers in our area, we're serving our community. Our women's ministry made over 500 masks for local hospitals and clinics, and we've even prepared our mission houses to provide for IMB missionaries who've been forced to come stateside. Thank you for all who have given, volunteered, and helped us serve others with the love of Christ.
CONNECTING WITH YOUR FAMILIES
Our preschool, children, student, and young adult ministries are working hard to connect with you and your families. Please be on the lookout for email resources, social media posts, and even Virtual Verge (student worship) on Wednesday nights. If you're not receiving these updates or want more information, please email [email protected].
Thank you for your faithfulness in giving/tithing and doing your best to stay connected in this time of distance. We miss you and are looking forward to a great Easter Sunday.
Blessed,
Pastor Jason
Executive Pastor of Ministries
---
UPDATE | MARCH 31, 2020 | 3:00PM
Church Family,
Our team feels like Paul might have felt when he wrote the church at Philippi and reminded them of his desire to be with them and encouraged them from a distance, "For God is my witness, how I yearn for you all with the affection of Christ Jesus. And it is my prayer that your life may abound more and more, with knowledge and all discernment, so that you may be approve what Is excellent, and so be pure and blameless for the day of Christ" (Philippians 1:8-10). We long to be gathered together and until then, we are praying you may "abound more and more."
EASTER SUNDAY, APRIL 12 - GSFBC.ORG/EASTER
After much deliberation and study, we've prayerfully determined the best thing for us to do on Easter is to continue online. We will host Easter Online at 9:30am and 11:00am through all our live-streaming sources: gsfbc.org/live, Facebook, YouTube, and the GSFBC app. Both online services will be identical. We're excited to announce we will premiere The Kingdom on Good Friday at 6:00pm on those same outlets. The Kingdom is dramatic presentation of the life, death, and resurrection of Christ performed by our own Celebration Choir and Orchestra. Following The Kingdom, Pastor Dave will lead us to celebrate the Lord's Supper together as the Body of Christ.
DRIVE THRU PRAYER: APRIL 5 & 9
Join us for Drive Thru Prayer as we're asking as many that are able to connect with us from the safety of their own vehicle to stop by the church, allow one of our pastors to check in with you (while maintaining social distance), have prayer with you, receive the second quarter of our New Testament Reading Journal (for those who preordered one), and receive the Lord Supper elements to use following The Kingdom premiere.
The Drive Thru Prayer opportunities are Sunday, April 5 from 4:00pm - 6:00pm and Thursday, April 9 from 4:00pm-6:00pm. If you're unable to make it but need prayer, please email us at [email protected].
THE BARNABAS MINUTE
If you're connected with our social media accounts, you'll start seeing our staff offer a daily devotional video that follows our New Testament reading plan (gsfbc.org/bible). We hope a minute of encouragement will help sustain your day and keep us united as we read the scriptures together. Follow us on Facebook and Instagram to be encouraged!
Thank you for your continued giving! God is answering prayers through your faithful acts of obedience. Our strategy has changed, but our mission hasn't. Thank you for allowing us to maintain the mission through your giving and help people in this time through our Feed the Need and Meet The Need efforts. You may give online, by mail, or by dropping it off at the office.
Grateful for you,
Jason Miller
Executive Pastor of Ministries
---
UPDATE | MARCH 24, 2020 | 12:00PM
Church Family,
We miss you. We miss being together, worshipping side by side, praying as we share needs, and enjoying the fellowship of the saints. Paul told the church at Thessalonica, "Because we loved you so much, we were delighted to share with you not only the gospel of God but our lives as well." We miss sharing life together. It's as simple as that.
Looking to the future, we've chosen to continue to heed the wisdom of our state leaders and health officials and will continue to lead and serve our body remotely. How we connect with each other as a church family is definitely a challenge in this season of social distance, but our staff is working hard at developing creative ways to serve and equip our families and members virtually. Here is our upcoming ministry plan:
Online worship ONLY for March 29 and April 5.
You may watch the online service through our Facebook page, our YouTube channel, our website, or from our app. This last Sunday our internet provider was overwhelmed with the amount of bandwidth needed at one time (many churches were streaming on Sunday morning) resulting in a slow connection with our Facebook Live.
What about Easter? Although no decisions have been made, we are thinking about all our options and will communicate our plan as we understand the impact of COVID-19 .
We've given our staff the option to work remotely from home. Our staff is still able to respond to emails and texts should they be out of the office. Our team is staying busy as our age group staff connects with children, students, and families; our missions staff meets needs in the community; our worship team plans and designs services; and our facilities staff works on projects around the church we haven't had time to complete.
Quarter Two of our New Testament Reading Plan will begin April 6. We will not distribute journals at this time, but you can keep up with the reading plan at gsfbc.org/bible.
Please continue to give. Your tithes and offerings provide the resources needed for us to continue to serve our team, our church family, our ministry partners, and our engagements around the world. You can give online, mail it in, or drop it by the church office. Never given online? Watch this instructional video HERE.
Help us with Feed the Need and donate to the Arkansas Food Bank as they provide meals through local schools. Your giving is already making an impact!
Cancellations:
We've cancelled our spring Upward Soccer season and league.
We've cancelled our Community Wide Easter Egg Hunt on April 11.
Please let us know how we can pray for you and serve you in the days ahead.
Trusting in Him Together,
Jason Miller
Executive Pastor of Ministries
UPDATE | MARCH 17, 2020 | 4:00PM
Church Family,
It has been an interesting few days as we watch our nation and world try to understand the ramifications of COVID-19. Never in my lifetime have I witnessed something like this. But God is not caught by surprise, and He is faithful to provide peace, wisdom, and security through His Word and His Son, Jesus!
SERVING OTHERS
We have a great opportunity to serve others as a result of COVID-19 crisis. School kids are being fed through school programs and through the Arkansas Food Bank. You can help by giving to the Food Bank and local school programs through Feed the Need.
For more information please go here: Feed the Need
WORSHIPING TOGETHER
We've also made the decision to meet just online this Sunday, March 22. We're listening to health officials, state and local leaders, and trying to be considerate to those who could be easily affected by COVID-19. Our online service will go live Sunday at 9:30 through at gsfbc.org/live, on our Facebook page, and on our YouTube channel.
Moving forward, we've also made the decision to cancel all activities at Geyer Springs through March 28. In addition, we are canceling some of our Summit Events (Sr. Adults) beyond March 28 and into April as we know COVID-19 can more problematic for our older members and guests. Our facilities team has been hard at work ensuring our building is clean, and keeping activities off campus helps us maintain a COVID-19 free environment.
GIVING
Third, please continue to give. As services have been suspended, it's important we continue to be obedient in the area of giving as we are still involved in ministry every day. You can give online (gsfbc.org/give), through the mail, or by dropping it off at the church office.
I'm grateful for how our church family serves one another and serves our community. Continue to join me in prayer, praying for our church, our nation, and our resilience to be faithful to Live for God, Love Others, and Reach the Nations.
Join me online Sunday!
Pastor Jason
Executive Pastor of Ministries
---
UPDATE | MARCH 12 | 4:00PM
In light of the most recent news on confirmed cases of COVID-19 in Pulaski and Saline counties and with area schools closing, we've made the difficult decision to cancel all services and activities through March 21. This includes all Sunday services, Wednesday night activities, class fellowships, and meetings. This response is not a reaction out of fear or anxiety, but one done in partnership with our local and state leaders. We have a deep desire to love our neighbors and help our community, and we feel cancelling our services this Sunday is the best decision for all involved. Please see above for a short video from Pastor Dave regarding this decision.
Even though we are not meeting physically this Sunday, we will host an online service at 9:30am with a message from Pastor Dave and our worship team. We hope you'll join us online at gsfbc.org/live or on our Facebook page or through the GSFBC app.
I also want to encourage you to continue to give. We are still very involved in weekly ministry here and around the world. Not coming to church doesn't mean you aren't able to give. Please consider giving online at gsfbc.org/give. This page provides clear instructions for those who have never given online. You may also mail in your tithes and offerings or drop them by the church during office hours. Your giving is important, and we appreciate your providing attention to this detail.
Next week, we will make decisions regarding future services and events after March 21 as more information becomes available.
Let me continue to encourage you that our God is still in control even through this chaos. His provision, His peace, and His hope are all available to us as we trust in Him, His Word, and His promises. May our faith grow and not waiver as we stand strong through these recent events.
Join me online Sunday!
Jason